BIG BEADZ – the big boho sister of a mala!
BIG BEADZ kommen aus dem Herzen von Bali – Ubud.
Big Beadz sind glänzend und matt – modern und mystisch – zart und massiv – hell und dunkel.
Und Big: Anzahl der Perlen: 162 – Größe der Steine: 10mm
Die traditionell handgeknoteten Big Beadz aus Edelsteinen und Rudraksha-Samen werden doppelt um den Hals gewickelt getragen.
Im Zentrum glänzt ein handgefertigter Metallring: um die Sonnenbrille einzuhaken, den Lieblingsanhänger dranzuhängen, für mehr Blingbling oder einfach als schöner Ring.
Einige Modelle glänzen von Haus aus mehr als andere durch integrierte Glasfacettensteine.
---
Your BIG BEADZ necklace comes from the heart of Bali – Ubud.
~ Hand-knotted double-length / double-wrap
~ colorful big gemstone beads meeting dark mystical rudraksha seeds
~ two guru-bead focal-points: one big lava stone, one solid handmade metal ring
~ finished off with a handmade cotton tassel, respecting the 7 chakra colors
One version rocks some multi-color bling glass-facetted beads as well.
It is shiny and matt – modern and mystical – soft and solid – bright and dark
Since BIG BEADZ is clearly mala-inspired, we picked as the total number of beads 162 – in reference to the sacred number 9 and as the result of two short traditional males of 81 beads put together.
The solid ring in the center focal point is handmade by a balinese silversmith and of multiple use:
Wear it as is, as a circle, as a loop
For practical use: loop your sunnies in
For personal touch: individualize your BIG BEADZ by hanging your favorite pendant, your personal lucky charm, your special little treasure.. pick and choose your own.
BIG BEADZ – the big boho sister of a mala!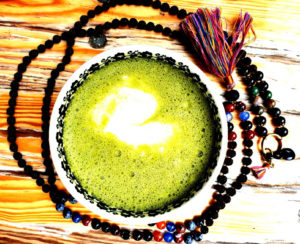 Enjoy your bold boho beads!
Handgemachte XL Edelstein-Rudraksha-Kette.
Giving Back
10% des Erlöses spenden wir an eine ECO-SCHOOL auf Bali.
Fair production
Natural products
Made to last
Handmade with care in Bali